Frozen and Burst Pipe Cleanup Service in Madison, CT
2/11/2021 (Permalink)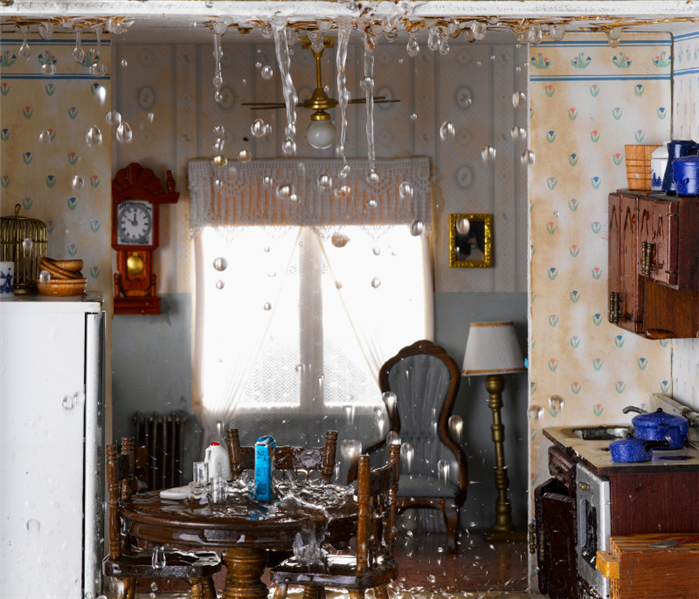 Dealing with the water damage from a frozen or burst pipe can be overwhelming. SERVPRO of Old Saybrook makes it "Like it never even happened."
SERVPRO Of Old Saybrook Can Handle All Types Of Frozen, Leaking or Burst Pipe Cleanup and Repair Needs In Your Home In Madison
The winter months in Connecticut can bring bitter cold weather as well as the chance of burst pipe water damage.
When the water in your pipes freeze, it causes the water to expand and exert pressure on your pipes. This pressure can cause the frozen copper pipe to rupture or break, allowing water to leak and flood your home. When not quickly discovered and addressed, a frozen pipe can cause major water damage in your Madison home.
If you're faced with burst pipe water damage in Madison, immediate action is needed to prevent extensive structural damage and mold growth inside of your property. The sooner the water damage restoration process is started after a pipe bursts, the less likely it is for secondary damages to form.
SERVPRO of Old Saybrook is the Connecticut Shoreline's leading water damage repair and restoration company in Madison. Our team is on call and ready to respond to your frozen, leaking, or burst pipe water damage cleanup 24 hours a day. When you need someone to clean up the mess from water damage or water leaks, SERVPRO of Old Saybrook will be there within hours.
Free Estimates
24/7 Emergency Services
Highly Trained Water Damage Specialists
We Handle the Insurance Process For You
What To Do When A Frozen Pipe Bursts In Madison, CT
How do you know that you have a frozen pipe in Madison? It's pretty clear when a pipe inside a wall has frozen, as you'll notice that you suddenly have low water pressure or no running water, frost on your pipes, strange odors are coming from drains, or hear clanking sounds inside of your pipes.
When you know you have a frozen pipe, you should:
Immediately turn off the main water supply to prevent the frozen pipe from flooding your home.
Follow the sound of running water or pipes clanking to find the source.
If water is flowing into your home from a burst pipe, immediately call SERVPRO of Old Saybrook. Our emergency team can immediately respond to begin water removal and drying your home.
Call a plumber to fix the broken pipe and unfreeze any other pipes as needed.
Move wet or valuable items to an undamaged, dry space.
Common Causes of Leaking, Burst or Frozen Pipes
Below freezing outdoor temperatures
Removed or insufficient pipe insulation
Heating system isn't on during cold temperatures
Regular wear and tear or corrosion overtime
Physical damage to the pipe, such as during remodeling activities
Burst Pipe Water Damage Cleanup and Restoration Services in Madison, CT
At SERVPRO of Old Saybrook, we know how devastating the flooding and water damage from a burst pipe in Madison can be. When your walls, floors, ceilings, and even furniture is soaking wet, it's hard to imagine your home back in pre-damage conditions. Our team works hard to clean up the mess from a frozen burst pipe and restore your home back to normal as soon as possible.
1 - 24/7 Emergency Contact
When you call SERVPRO of Old Saybrook, a representative will take your information and any details about your burst pipe flooding. This way, our team can be properly prepared when they arrive at your property to provide frozen pipe cleanup and repair services.
2 - Water Cleanup & Extraction
There may be flooding and standing water throughout your home when a frozen pipe bursts. When crews arrive, they will immediately begin removing all water from your property. The faster water is cleaned up, the more likely building materials like floors, carpets, trim, or drywall can be saved.
3 - Structure Drying
Once all standing water has been addressed, equipment will be set up around your property to ensure all building materials dry. Demolition is usually a part of the burst pipe cleanup process, as the source of your water damage is behind walls, floors, or ceilings. Drywall will have to be removed in order to ensure all areas affected by water are dried.
4 - Mold Remediation (As needed)
After flooding or water damage from a burst pipe, mold growth is always a possibility. If moisture isn't addressed quickly enough, mold remediation may be required before returning your home to pre-damage conditions.
7 - Cleaning and Sanitizing
Once your structure has been dried, it will be clean and sanitized with an antimicrobial spray. This step ensures that your property is clean and free of bacteria or mold spores.
6 - Restoration
After the water damage cleanup process is complete, our in-house construction team is brought in for restoration. They can replace drywall, trim, flooring, or paint as needed to completely bring your home in Madison back to pre-damage conditions.
When You Need Help With Burst Pipe Water Damage Cleanup in Connecticut, Call Us For Immediate Service - 860-388-1776