What Can Be Salvaged After A House Fire?
3/9/2021 (Permalink)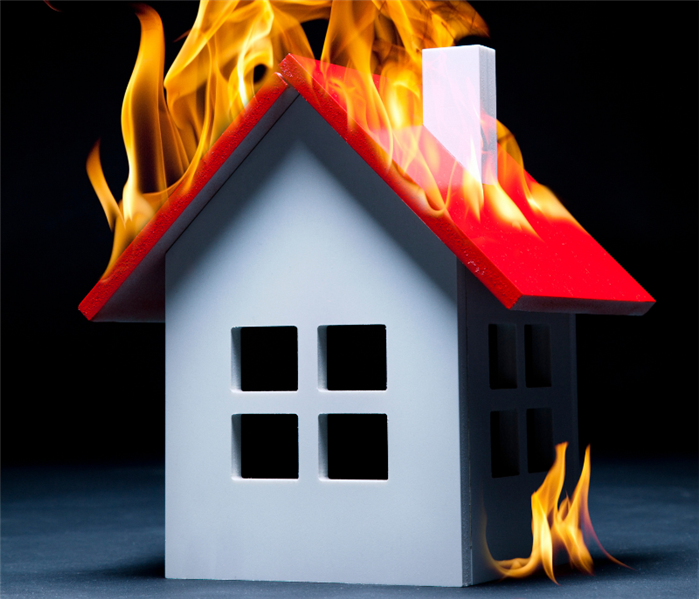 Figuring out what you can and can't keep after a house fire can extremely stressful. SERVPRO of Old Saybrook can help.
After any size fire in your Connecticut home, smoke and soot residues can cover every surface of walls, floors, ceiling, counters, decorations, and more. While many items and surfaces can be cleaned and restored after a fire, there are some items that are not salvageable after being exposed to high heat, smoke, and soot. Here, we will review what you can keep and what you must throw away after a house fire.
What To Throw Away After A Fire
After a fire, any items which are melted or burned should be thrown away. Specific items that you must throw away include:
Non-Perishable Food Items
Any non-perishable food items that have been exposed to high heat of the fire, smoke and soot, or firefighting chemicals must be thrown away. Even food items which are in cardboard boxes, cans, or jars likely have to be thrown away. Sealed food is often not salvageable after a fire because the high temperatures can activate bacteria which can cause the food to go bad.
You should closely inspect all items in your kitchen closely for any sort of sign of fire, smoke, or heat damage that could contaminate your food.
Perishable Food in Your Fridge
There are times that after a fire the food in your refrigerator is completely unharmed and is safe to eat. Unfortunately, even when your fridge isn't damaged by the fire, contaminants can make their way inside of it and force you to throw everything away.
Examples that the food in your fridge must be thrown away after a fire include:
Smokey or fire smell in the fridge
Soot inside of the fridge
The refrigerator lost power and has spoiled the food
Items Kept in the Medicine Cabinet
It's extremely important to check items that are located in medicine cabinets such as medication, makeup, or hygiene products for signs of heat or fire damage. These items can be easily affected by the high heat of a fire.
Plastics that are Melted or Stained
Unfortunately, plastic items which are in a fire tend to easily absorb smoke and soot particles, making them extremely hard to clean after a fire. These items usually have to be thrown away - especially if melted.
Burned Clothing, Towels, or Bedding
Many of your cloth or upholstered items can be cleaned and restored after a house fire in Connecticut, but if they are burnt they should be disposed of.
What Can You Save After A Fire?
There are many household items that can be salvaged after a fire with proper cleaning, disinfecting, and restoration methods employed by a professional fire damage restoration company. But, you still must throw away any item that is melted or burned. Items which are easiest to save are those which have hard, non-porous surfaces. Examples include:
Glass
Metal
Hardwood floors
Walls
Hardwood furniture
What Shouldn't You Do After A Fire?
After a fire, there is a list of things you should not do to ensure your safety, an efficient restoration process, and to not cause further damages to your home.
Don't Try To Clean Fire Damaged Items or Surfaces Yourself
While it may be extremely tempting to start cleaning smoke and soot by yourself after a fire - don't! Incorrect cleaning of smoke and soot residues can actually cause the damage to become worse and harder for professionals to clean and restore.
When you touch smoke and soot residues on walls or your belongings, it pushes the particles deeper into the affected material. Using water or any other cleaning solution on fire damage will also drive soot and smoke further into building materials, making it harder and harder to remove.
Don't Put Off Fire Damage Restoration
It's important to start the restoration process rather quickly after a fire. This is because the longer soot and smoke are on surfaces of your home, the harder they will be to remove. Over time, the particles will absorb further and further into porous items and force you to throw them away.
Don't Re Enter Your Home Until You've Been Told It Is Safe
After a fire, the structure of your home may not be safe, there may be flooding from firefighting efforts, or chemicals may even be present. Do not attempt to salvage any of your belongings at the risk of your own safety after a fire.
Need Help With After Fire Cleanup in Connecticut? Call SERVPRO of Old Saybrook